"The Loop" Bike Ride Along the Canada del Oro Wash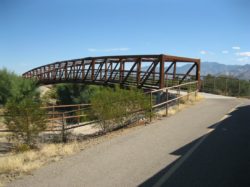 There is an out and back section of "The Loop" that runs along the Canada del Oro wash.
This out and back section is a great way to add miles to "The Loop"
"The Loop" extension along the Canada del Oro wash is a total of 24 miles out-and-back or 12 miles one way.
Riding this section from south to east is gradually uphill so when you turn around heading southwest you will be cruising downhill at a good speed.
Total distance:
12.07 mi
Max elevation:
2687 ft
Min elevation:
2198 ft
Total climbing:
587 ft
Total descent:
-112 ft
Download file:
The-Loop-CDO-Wash.gpx