24 Hours In The Old Pueblo Bike Course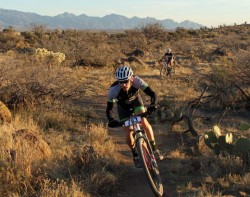 24 Hours In The Old Pueblo Mountain Bike Race Course
Epic Rides puts on an awesome 24 hour mountain bike event north of Tucson called 24 Hours in the Old Pueblo.
Over night the race area becomes a mini city in the middle of nowhere with food and bike vendors, volunteers, racers and support crew who are camped out, and a huge tent where racers check in and out to keep track of the laps.
As  you are driving at night from highway 77 near Oracle, Arizona if you look to the northwest where the course is you would think it was city.
It is an awesome event and worth doing. Each year the event fills fast so enter early.
If you have not done the 24 Hours In The Old Pueblo Bike Course before you can download the .GPX file on the map below to your Garmin.
If is a fun fast course!
PS: Word of Advice… Save some gas for mile 12 through 15. If you spend all your cookies prior to mile 12 you will NOT be able to power up the 3 mile climb. 
Bike Ride Map and Elevation Details
Total distance:
16.05 mi
Max elevation:
4114 ft
Min elevation:
3586 ft
Total climbing:
1434 ft
Total descent:
-1427 ft
Download file:
24HourOldPueblo.gpx.gpx