Pemberton Trail McDowell Mountain Park Mountain Bike Ride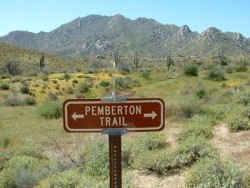 The Pemberton Trail in the McDowell Mountain Park is an awesome looped mountain bike ride. It is about 2/3 singletrack and 1/3 jeep road.
Most mountain bikers ride the course counter clockwise. The 1st half of the ride is a steady rolling gradual uphill climb with some awesome single track. The backside of the ride, get ready for a fun ripping decent. Just point your bike downhill and let it roll.
The course is home to the Dawn to Dusk mountain bike race that is held the first part of December. The event is awesome and worth doing solo or as a team. The race fills up fast so get registered early.
As you are tearing up the trail don't forget to take in the views. The desert beauty of the McDowell Mountain Park is what Arizona mountain biking is all about.
There is a fee to enter the park. The park offers RV parking and camping. Exploring the Pemberton Trail is worth the trip.
Bike Ride Map and Elevation Details
Total distance:
13.73 mi
Max elevation:
2431 ft
Min elevation:
1798 ft
Total climbing:
1270 ft
Total descent:
-1306 ft
Download file:
pemberton.gpx