South Mountain Bike Ride – Phoenix, Arizona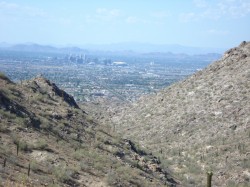 South Mountain Bike Ride – Phoenix, Arizona
South Mountain Park is located in Phoenix Arizona. South Mountain hill climb is a great bike ride just south of downtown Phoenix.
The views from the top are spectacular; making the ride to the top is worth the trip.
Potential Hazards: Be careful coming down the mountain. There are some tight turns so make sure your control your speed.
Note: The ride is in a state park and my require a small fee.
Map to entrance: CLICK HERE
Bike Ride Map and Elevation Details
Total distance:
13.93 mi
Max elevation:
2635 ft
Min elevation:
1407 ft
Total climbing:
1516 ft
Total descent:
-1516 ft
Download file:
South Mountain Hill Climb.gpx