Kentucky Camp Mountain Bike Trail – Southern, Arizona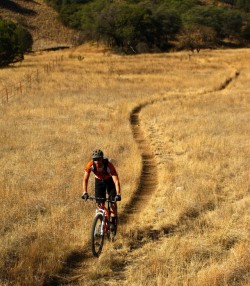 Kentucky Camp Mountain Bike Trail in Arizona Is Worth The Drive!
If you are a mountain biker and have not riden the trails in southern Arizona you are in for a real treat. Kentucky Camp mountain bike trial in southern Arizona are epic and worth the drive from anywhere in Arizona.
There is a mixture of everything on this mountain bike ride from single track to jeep trails.
There are some spectacular views on this ride. The Santa Rita Mountain peaks to the west and the upper grasslands make for some scenic riding.
This ride will challenge your climbing ability. There is close to 4,000 ft of vertical on the ride. So bring you climbing legs.
Directions: Take I-10 east out of Tucson to exit 281, the Sonoita Highway / State Highway 83 exit. Heading south on 83, 11.5 miles from I-10, look for a picnic table/rest area on the right side of the road, turn right down the dirt road just after it, signed for Rosemont Junction (FR 231). 1.41 miles in, a cairned singletrack crosses the road. This is the start/finish for racing. Parking lot is on the left of the road, 1 mile from the highway, just before the singletrack. There is a 1/2 mile ride from the parking lot to the singletrack.
Trail Head Start: Click Here
Bike Ride Map and Elevation Details
Total distance:
46.83 mi
Max elevation:
5951 ft
Min elevation:
4501 ft
Total climbing:
6775 ft
Total descent:
-6772 ft
Download file:
482mtride.gpx