Wupatki Sunset Crater National Monument Bike Ride – Flagstaff, Arizona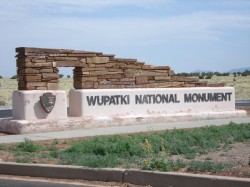 Sunset Crater Wupatki Road Bike Ride northeast of Flagstaff, Arizona is a tough ride!
Sunset Crater Wupatki bike ride  is a challenging out and back road bike ride that starts in the Pines just north east of Flagstaff, Arizona.
Wupatki National Monument protects the ancient dwellings of puebloan people and Sunset Crater Volcano.
This is a great ride but a tough one… it will kick your butt!
Make sure you bring plenty of water and food. You will also need some money to enter the park.
Basically you descent for 30 miles and then turn around and head back to the pines. The descent takes you down to the high desert. There are some great views and the ride is well worth the climb back. You can certainly turn around at any time to reduce the mileage.
Note: The ride goes through a national park so there is a fee. Don't let the fee stop you from a great ride!