Cody Loop – Oracle, Arizona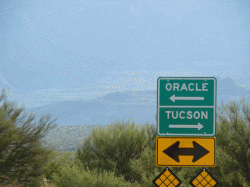 Cody Loop – Oracle, Arizona
The ride called "Cody Loop" is a favorite among cyclist who live on the northwest side of Tucson and Oro Valley, Arizona.
The ride goes out to the town of Oracle which is famous for the Biosphere. The majority of the ride is on highway 77 which has a big bike shoulder. The down side is you are riding along side fast moving traffic so be careful. Also be careful for debri. This ride is famous for flats.
Once you get to the town of Oracle you take a right hand turn on American Ave to ride the loop know as "Cody Loop." Then you ride back to Tucson on highway 77.
There is a convenience store on American Ave in the town of Oracle. Great place to stop at the half way point to fuel up.
To add some extra miles on your way home you can ride through Saddle Brooke or Rancho Vistoso.
Bike Ride Map and Elevation Details
Total distance:
64.44 mi
Max elevation:
4795 ft
Min elevation:
2541 ft
Total climbing:
3032 ft
Total descent:
-3032 ft
Download file:
Cody Loop.gpx