Colossal Cave Pistol Hill Bike Ride – Tucson, Arizona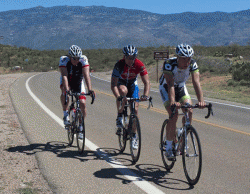 Colossal Cave Pistol Hill Bike Ride in Tucson, Arizona is one of the most popular rides on the southeast side of Tucson with tons of ride variations to add mileage.
There is a good bike lane most of the way with not a lot of traffic.
When turning right, if riding clockwise, on Pistol Hill Road from Old Spanish Trail there is a mile climb to get your heart pumping.
Once you get to the top Pistol Hill look west for a great view of Tucson.
You can do several variations from this ride to add distance.