El Tour de Tucson Bike Route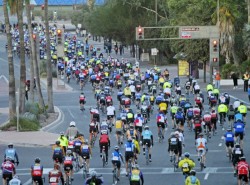 El Tour de Tucson Bike Route
The El Tour de Tucson is held annually the Saturday before Thanksgiving in Tucson, Arizona.
El Tour is a fun ride attracting over 9,000+ cyclists of all ages and abilities from throughout the United States and beyond, consisting of novice, intermediate, advanced, and professional riders.
Southwest Airlines' in-flight magazine, Spirit (June 2001) named El Tour de Tucson "one of the premier organized rides in the United States," and Bicycling Magazine (October 2002) ranked El Tour as "one of the top three fundraising rides" in the country.
Potential Hazards
There are tons of riders so be careful.
Plus there is two river crossing that makes for an interesting bike ride. Most riders dismount their bikes and walk the river crossings. The condition of the river crossing all depends on the amount of rain Tucson gets leading up to the race.
El Tour de Tucson Bike Route Subject to Small Changes
Keep in mind the route has been known to change slightly from year-to-year based on road construction.
Bike Ride Map and Elevation Details
Total distance:
105.85 mi
Max elevation:
3035 ft
Min elevation:
2077 ft
Total climbing:
3297 ft
Total descent:
-3325 ft
Download file:
Tour_de_Tucson_Route.gpx