Madera Canyon Bike Ride – Tucson, Arizona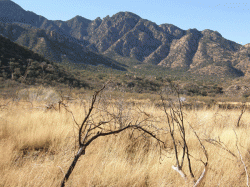 Madera Canyon Bike Ride – Tucson, Arizona
Madera Canyon is an out and back bike ride that starts in Tucson and goes south towards Green Valley, Arizona.
The road bike ride is a favorite with many pro cyclists and triathletes during the winter months.
Many cyclist will do the Shootout on Saturday and then make the turn to go out to Madera Canyon turning the Shootout into a longer ride.
The Shootout coupled with Medera Canyon is great ride to get ready for the racing season during the winter months. Or a favorite in the fall among the locals to get ready for El Tour de Tucson.
The ride to Madera Canyon is a hard ride with a killer climb up to the top of Madera Canyon.
You can easily turn this ride into a century.
Bike Ride Map and Elevation Details
Total distance:
88.24 mi
Max elevation:
5016 ft
Min elevation:
2320 ft
Total climbing:
4026 ft
Total descent:
-4029 ft
Download file:
Shootout - Madera Canyon .gpx