Fantasy Island Mountain Bike Ride – Tucson, AZ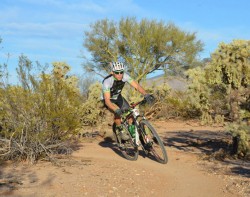 Fantasy Island Mountain Bike Ride – Tucson, AZ
Fantasy Island mountain bike ride in Tucson, AZ is a killer dirt track with all kinds of interesting stuff!
You can park at Irvington and Harrison on the south side of Irvington which is the north entrance. Or the south entrance on Valencia south of Houghton. Most people start at the north entrance on Irvington.
The course is a blast! You can make it as easy or as hard as you want depending how hard you hit it.
Be careful for cactus. There are some tight turns and the Cholla Cactus will get you if you are not careful.
Bike Ride Map and Elevation Details
Total distance:
23.81 mi
Max elevation:
2936 ft
Min elevation:
2789 ft
Total climbing:
1312 ft
Total descent:
-1302 ft
Download file:
fiRide.gpx