Gates Pass ~ McCain Loop Road Bike Ride – Tucson, Arizona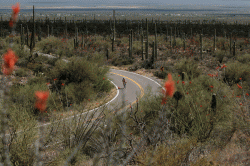 Gates Pass McCain Loop road bike ride in Tucson, Arizona is a favorite ride on the west side of Tucson!
Ride Description
This is a popular bike ride on the west side of Tucson, Arizona. You pass Old Tucson and the Desert Museum along the ride.
There are some great views at the top of Gates Pass. Stop and take a look to the east and to the west.
The ride has a little of everything: flats, rollers, and a short killer climb up the back side of Gates Pass.
To add mileage you can do McCain Loop several times or in reverse to add variety.
Potential Hazards
Be careful coming down the back (west) side of Gate Pass because it is a fast narrow descent with some very tight turns.
Rest Stops
At the top of Gates Pass there is a bathroom located at the scenic look out parking lot
Gates Pass Video
Bike Ride Map and Elevation Details
Total distance:
30.2 mi
Max elevation:
3175 ft
Min elevation:
2321 ft
Total climbing:
2197 ft
Total descent:
-2200 ft
Download file:
Gates Pass - McCain Loop Bike Ride.gpx