Usery Pass Road Bike Ride – Mesa, Arizona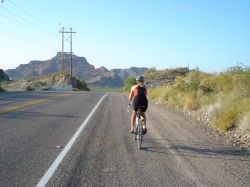 Located in Mesa, Arizona, Usery Pass road bike ride is a favorite loop among Phoenix cyclist.
This loop has been part of the course of many USCF cycling races over the years and triathlons staged at Saguaro Lake.
There are many variations from this ride to add mileage. To add miles instead of turning up Usery Pass head towards Saguaro Lake for an out and back before heading up Usery Pass.
The scenery is breathtaking. You parallel the Salt River for about 1/4 of the ride so depending on the time of the year the desert vegetation is green and plush.
During the warmer months ride with caution as big trucks pulling boats take over the road.
If you do the ride clockwise there is a good little climb on this ride.
Bike Ride Map and Elevation Details
Total distance:
20.98 mi
Max elevation:
2113 ft
Min elevation:
1316 ft
Total climbing:
1004 ft
Total descent:
-997 ft
Download file:
Usery Pass.gpx