Snow Bowl Road Bike Ride – Flagstaff, Arizona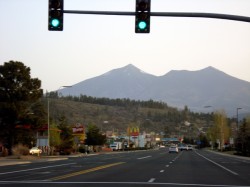 Yes, the picture to the upper right is where you are going.
Get ready for a killer climb!
The bike ride to the top of Snow Bowl is up there with one of the best climbs in the state of Arizona. The Snow Bowl Hill Climb views are breathtaking. Bring your camera!
You can start anywhere in Flagstaff to get to hwy 180 as you begin the ride the top of the San Francisco Peaks.
Bring a layer for the ride down. It can get chilly!
Bike Ride Map and Elevation Details
Total distance:
29.42 mi
Max elevation:
9272 ft
Min elevation:
6883 ft
Total climbing:
2628 ft
Total descent:
-2628 ft
Download file:
Snow Bowl.gpx