Tucson Bicycle Ranch Saturday Group Bike Ride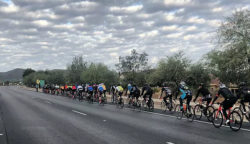 SUPER FAST TUCSON GROUP BIKE RIDE!
If you are looking for a group bike ride on Saturday on the North West side of Tucson then consider doing the Bicycle Ranch Group Bike Ride.
It is a fast ride with a few moderate climbs that are not super steep.
There group bike ride regroups in a couple of places so it pays to keep the hammer down if you get dropped so you can get back in the pack.
The ride starts on the southeast corner of Ina and Oracle at the Bicycle Ranch Bike Shop.
The start time varies depending on the time of the year.
Total distance:
53.34 mi
Max elevation:
2690 ft
Min elevation:
1814 ft
Total climbing:
2667 ft
Total descent:
-2697 ft
Download file:
Bicycle Ranch Ride.gpx