Dawn to Dusk Arizona Race & Course Info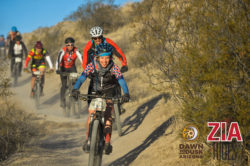 My wife and I have raced Dawn To Dusk Arizona as a mixed duo team for the past 5 years and love this mountain bike race. It is one of our favorites.
The course is awesome! The Arizona desert scenery is majestic! The race is well organized and run.
Definitely, a mountain bike race to put on your list of races to do.
Course Map:
Course Description:
Over the last four years, the Pemberton Trail at McDowell Mountain Regional Park has shown us it's wicked and wonderful sides. This trail is a fantastic course for this event because of the variety and the amazingly scenic views of the Sonoran desert. The new 16.5-mile loop will include much of the same course as in previous years on the Pemberton Loop.
For 2017, we are going to be coming up from the Four Peaks Staging area on Cinch and Scenic trails to Pemberton Trail. The course will continue up Pemberton just as it has in years past. However, instead of going all the way around Pemberton trail, the course will drop down Bluff Trail to Granite Trail and back to the staging area via Shalmo Wash Trail.  It will also be traveled in a counterclockwise direction as it has been in years past.
MTB Project Link – please note the course for the race runs counter clockwise.
McDowell Mountain Regional Park Map
Zia Rides Event Page: Dawn To Dusk Arizona
Picture above Tyler Ford, Tucson Cycling Realtor
Dawn to Dusk Arizona Mountain Bike Race Course Map and Elevation Profile
Total distance:
16.19 mi
Max elevation:
2458 ft
Min elevation:
1648 ft
Total climbing:
1056 ft
Total descent:
-1012 ft
Download file:
Dawn_to_Dusk_Lap_3.gpx