Hi I am Tyler Ford! Owner of ArizonaBikeRides.com, an Arizona native, an avid cyclist, and generally a nice guy!
I have been a passionate cyclist for more than 30 years. I "live to ride!" Especially Tucson's Saturday morning Shootout. The Shootout is one of the best group bike rides in the country, according to Bicycling Magazine.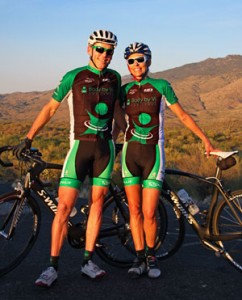 I started cycling while attending Northern Arizona University in Flagstaff, Arizona, and have been hooked on the sport ever since. For me, it was easy to get hooked when there was one of the best rides in the state just seconds from my home in Flagstaff called the Lake Mary Bike Ride.
You name the ride in Arizona and I have done it!
Arizona is an awesome place for road and mountain biking.
My wife, Mimi and I, are outdoor enthusiasts and have both competed in the Hawaii Ironman Triathlon in Kona, Hawaii the Xterra World Championship Triathlon in Maui, Hawaii and the Leadville 100 mountain bike race.
Our idea of a perfect day is going for a long bike ride in Tucson, Arizona.
Arizona has the perfect topography for cycling year-round with everything from the high mountains to desert flatlands.
Arizona has a thriving cycling community and is one of the bicycling's best-kept secrets.
This site is about the best bike rides in Arizona. The state of Arizona has some great bike rides which you will find in Flagstaff, Prescott, Scottsdale, Mesa, Show Low, Payson, and Tucson.
Arizona's sun and heat can get pretty intense during late spring, summer and fall. Make sure you put on plenty of sunscreen and stay hydrated so the sun does not get the best of you.
I am known as Tucson's Cycling real estate agent. If you have any Tucson real estate needs please contact me.