Saddlebrooke Bike Ride – Tucson, Arizona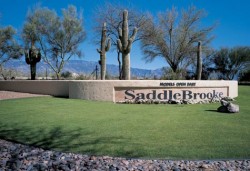 Saddlebrooke Bike Ride – Tucson, Arizona
Saddlebrooke bike ride is a favorite for cyclist on the northwest side of Tucson. Oracle Road offers a wide bike lane keeping cyclist away from traffic.
The breath taking road to Saddlebrooke is a steady climb to the summit from Oracle Road.
Be careful of the fast moving traffic on Oracle Road. There can also be some occasional debris on Oracle Road. There are sections of Oracle Road that have rumble strips that will rattle you silly if you ride over them.
Total distance:
35.16 mi
Max elevation:
3504 ft
Min elevation:
2539 ft
Total climbing:
1591 ft
Total descent:
-1591 ft
Download