El Tour de Tucson Bike Route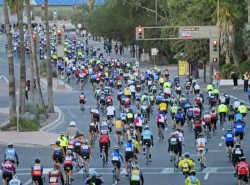 El Tour de Tucson Bike Route
The El Tour de Tucson is held annually the Saturday before Thanksgiving in Tucson, Arizona.
El Tour is a fun ride attracting over 9,000+ cyclists of all ages and abilities from throughout the United States and beyond, consisting of novice, intermediate, advanced, and professional riders.
Southwest Airlines' in-flight magazine, Spirit (June 2001) named El Tour de Tucson "one of the premier organized rides in United States," and Bicycling Magazine (October 2002) ranked El Tour as "one of the top three fundraising rides" in the country.
Total distance:
110.95 mi
Max elevation:
3012 ft
Min elevation:
2021 ft
Total climbing:
3527 ft
Total descent:
-3504 ft
Download