Kitt Peak Road Bike Ride Hill Climb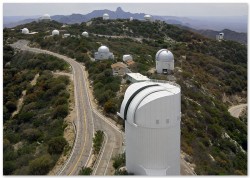 Kitt Peak Road Bike Bike Hill Climb
Kitt Peak is home to one of the world's largest observatories. The 12-mile Kitt Peak bike climb is an out and back for a total of 24 miles.
Kit Peak is west of Tucson, Arizona and will challenge riders of all levels.
The 360 degree views at the top of this sacred Native American mountain are well worth the climb.
There are two options for this ride:
Option One: Drive out to Kitt Peak Road from Tucson and do the 24 mile bike ride.
Option Two: Ride From Tucson CLICK HERE
Total distance:
24.19 mi
Max elevation:
6814 ft
Min elevation:
3228 ft
Total climbing:
3612 ft
Total descent:
-3612 ft
Download