Mount Graham Hill Climb – Safford, Arizona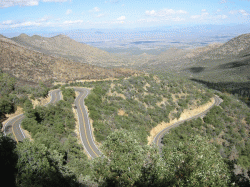 Mount Graham is about 2.5 hrs east of Tucson on I-10 just south of Safford, Arizona
The Mt Graham hill climb is one of the top 15 toughest climbs in the US according to the book A Guide To Cycling Climbing & The Most Difficult Climbs In The US. You climb 5,981 feet in 20 miles. Ouch!
The toughest bike climb in Arizona and up there with one of the toughest climbs in the US. Get ready to suffer!
This is the hill climb for the Arizona State Championship hill climb mass start road race.
Total distance:
39.92 mi
Max elevation:
9065 ft
Min elevation:
3340 ft
Total climbing:
6280 ft
Total descent:
-6280 ft
Download