Saguaro National Park Biking – Tucson, Arizona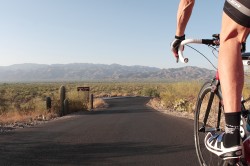 Saguaro National Park Biking
Know as "The Loop," to Tucson cyclists. The Saguaro National Park biking is one of the most popular bike rides in the Tucson area.
This is a spectacular circuit on the east side of Tucson that winds through a cactus forest to the base of the Rincon Mountains.
There is beautiful desert vegetation and occasional wildlife to be seen, so watch out for deer, bunnies and javalina particularly early in the morning.
You can start anywhere in Tucson to add mileage to this ride. Also doing multiple laps is the way to go. If you see me in the early AM please say Hi! 
NOTE: The Saguaro National Park is a national park and does require a small $ fee to enter the park. Paying the fee is worth the ride!
PS: If you are from out of town and don't have an annual pass wait for a local with an annual pass and ride in with them to avoid the $5 fee. The locals with annual passes can get two cyclists in per pass.