Mt Lemmon Road Bike Ride – Tucson, Arizona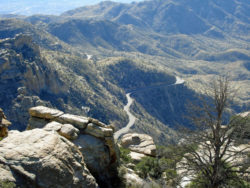 Mt Lemmon road bike ride in Tucson, Arizona is a favorite bike ride among the local cyclists!
Mt Lemmon Bike Ride Description
Cycling up the Mt Lemmon Hwy in Tucson, Arizona is an epic ride and will rival some of the best climbs across the country.
You start off at about 2,557 ft surrounded by saguaro cactus and mesquite trees and climb as high as 8,198 ft to pine tree vegetation and cool air.
The road is in great shape with a bike lane for most of the ride. On the way down there is no need for a bike lane because you will be keeping up with traffic.
If you love to climb and descend this is the ride for you!
Lance Armstrong in his winter training months in preparation for Tour De France rented a cabin on the top of Mt Lemmon and would climb up the mountain to top of a long days ride. I know because I saw him on more than one occasion and even got the chance to talk to him.
To add 2.89 miles and 760 ft of climbing to the ride you can climb up to the Mt Lemmon Ski area. Just before Summerhaven toward the top of the ride turn right on Ski Run Rd.
If your feeling really ambitious keep on going past Mt Lemmon Ski area had to the very top which is called the towers.
Potential Hazards
No real hazards other than high speeds descending down the mountain. There can be fallen rocks in the road from rains that if you hit while descending down the mountain can make for a gnarly crash. Control your speeds, look ahead and beware of vehicles.
Start Location
You can start anywhere in Tucson. Most people park in the Safeway shopping center at the intersection of Tanque Verde Road and Catalina Highway.
Rest Stops
Water and bathrooms at mile 5.5 which is Malino Basin
Bathrooms at mile 12 which is Bear Canyon
Bathrooms at mile 18 which is Windy Point
Water and bathrooms at mile 24 which is Palisade Ranger Station
Restaurants and bathrooms at mile 29 which is  Summer Haven
Restaurants and bathrooms at Ski Valley which is about 1 mile up from Summer Haven
Food and Drink
Safeway shopping center located at Tanque Verde and Catalina Highway
Le Buzz Cafe a favorite among the locals located at Tanque Verde and Catalina Highway
Subway located at Tanque Verde and Catalina Highway
Sawmill Run Restaurant located at Summer Haven
Bike Ride Map and Elevation Details
Total distance:
59 mi
Max elevation:
8159 ft
Min elevation:
2559 ft
Total climbing:
6936 ft
Total descent:
-6932 ft
Download
Mt Lemmon Road Bike Ride To The Very Top Radio Towers
Below is the map and elevation profile for those that want to conquer the very top of Mt Lemmon. It is an extra 1,387 ft of climbing from Summer Haven to the very top.
Total distance:
65.19 mi
Max elevation:
9134 ft
Min elevation:
2559 ft
Total climbing:
8323 ft
Total descent:
-8320 ft
Download