Riding Up Mt Lemmon? Fuel Up At Le Buzz Caffe!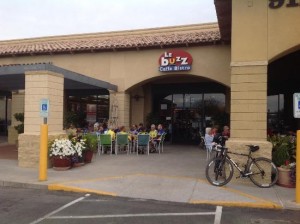 Many cyclist that ride up Mt Lemmon park in the Safeway shopping located at the corner of Tanque Verde and Catalina Highway.
Located within the shopping center is an awesome caffe called Le Buzz Caffe. They have great menu and excellent coffee.
After a hard ride up Mt Lemmon make fueling up at Le Buzz Caffe part of your plan.
The Safeway shopping center is a great place to hook up on Saturday and Sunday mornings to ride with other cyclist up the mountain and socialize at Le Buzz Caffe.
PS: Tell them ArizonaBikeRides.com sent you.