Best Bike Rides in Tucson, Arizona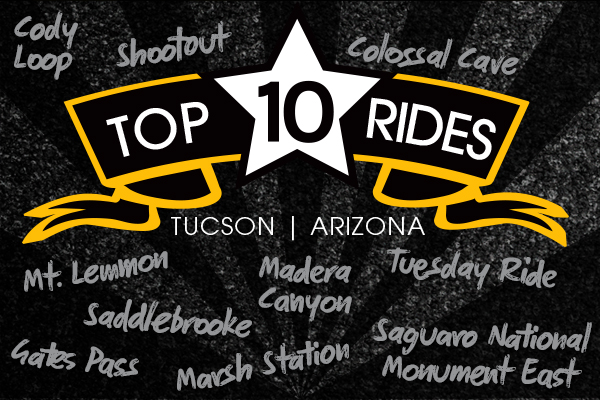 BEST ROAD BIKE RIDES IN TUCSON, ARIZONA | TOP CYCLING ROUTES
The state of Arizona has some awesome bike rides. But hands down ride for ride Tucson has the best bike rides in the state of Arizona.
Ok, so there is some bias towards Tucson.
If you are coming to Tucson and going to ride your bike below are the top 10 road bike rides you should do.
Check out the top cycling routes along with the mileage, maps, and elevation profiles by clicking on the links of the best bike rides in Tucson, AZ below.
If you have any questions about any of the rides feel free to comment on the ride you have a question about.

Here are the top 10 Road Bike Rides in Tucson, Arizona:
Other Notable Top Bike Rides In Tucson, Arizona
The Loop – Easy way to ride Tucson without traffic
Sabino Canyon – One of Tucson's most scenic
Plese Vote On Your Favorite Bike Ride In Tucson
If you have done any of the rides below please vote as to what is your favorite bike rides in Tucson. Once you vote you can see the results.
ABOUT TUCSON CYCLING COMMUNITY
Tucson has the perfect topography for bicycling with everything from high mountains to desert flatlands. The thriving, active cycling community is one of bicycling's best-kept secrets. But it won't stay that way, as the community is earning honors as a "bicycle friendly" city that hosts major biking events like El Tour De Tucson. El Tour De Tucson is the largest perimeter cycling event in the country.
Tucson is already a mecca for bicyclists from around the world during the winter months, as its 
topography, sunny skies and mild temperatures create the perfect environment. My pro cyclists and triathletes from all over the world train in Tucson, AZ during the winter months in preparation for the racing season.
There are not too many places in the country where you can start a ride in the desert at 2,500 feet and end up in the pine trees at Mt. Lemmon at 9,000 feet. But even in the summer, early mornings are a great time to ride in Tucson. Some people are just rolling out of bed by the time the avid cyclists have finished an invigorating 60-mile ride!
The city has numerous riding groups, with more forming all of the time. One of the best in the country is the group that meets for the Saturday morning Shootout, which attracts around 100 to 150 riders for rides ranging from 60 to 80 miles.
Tucson's sun and heat can get pretty intense during late spring, summer and fall. Make sure you put plenty of sunscreen on and stay hydrated so the desert sun and heat don't get the best of you.